Do you love Indian food but don't have enough time to cook your curries? These Indian food tips and tricks will help you cook food and save some time. Indian cuisine is cumbersome, however, these food tips will help you save some time.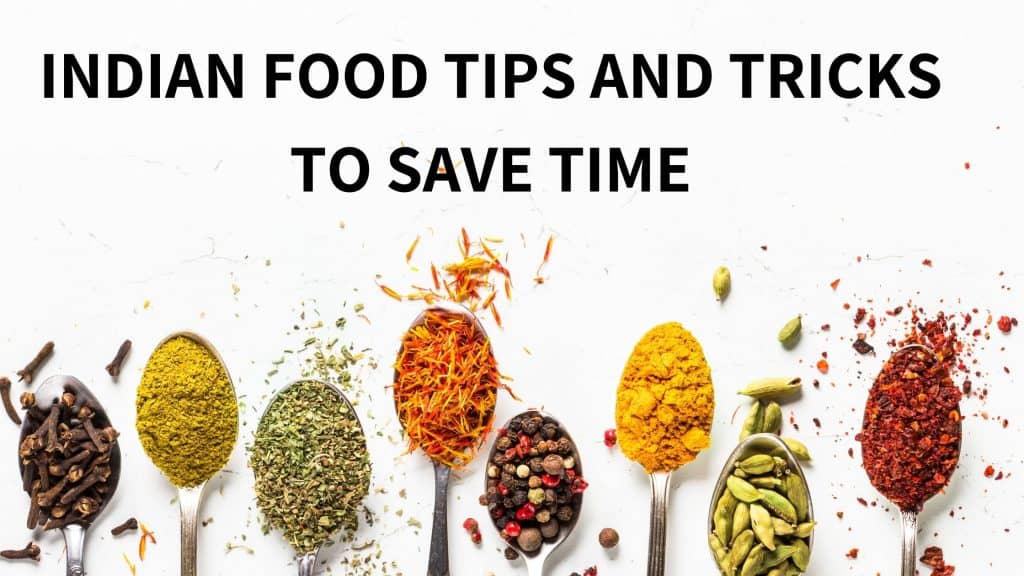 Indian food is a traditional cuisine with its roots in centuries of history. The long-standing tradition includes British, Arab, Persian, and Mughal influences. The Indian subcontinent has a diverse landscape with varied cuisines, including regional variations, historical influences from other countries, and intriguing culinary practices.
Indian cuisine is most famous for its spicy curries. Indian people eat rice, vegetables, lentils, and potatoes. They also eat many types of bread, including chapati, naan, and roti. India is a big country with many different regions with their own way of cooking food.
The food items cooked everyday are very basic and simple like vegetable curries and lentils. The complex dishes like Shahi paneer, malai kofta, paneer makhani, etc. are cooked during weekends or whenever we have guests at home. These dishes contain dairy and fat ( ghee or butter) making them rich and flavourful.
Indian food tips and tricks for beginners
1. Soak lentils and chickpeas before cooking
Lentils take time to cook. Soaking them before cooking makes them soft and more digestible. Red lentils don't take time to cook, but green and black lentils take a lot of time.
The same is with chickpeas as they are very hard and take a lot of time to cook. To save time, soak the chickpeas overnight for faster cooking.
Pro tip: If you forgot to soak the chickpeas the night before, you could soak them in boiling water for few hours.
2. Use a pressure cooker
The pressure cooker is an excellent addition to your kitchen to cook lentils. Lentils cook in just 5 – 10 minutes. Red lentils cook even faster. I always turn off the gas for red lentils even before the first whistle of pressure cooker.
In an open saucepan, even red lentils take time to cook. Start using pressure cooker for lentils and save time.
3. Use spices in moderation
Don't overdo spices, as they can make your curry bitter. Use the spices only to enhance the flavors f the food, not to mask the flavors of food.
Start with the basic spices like cumin seeds, coriander powder, and garam masala. I use garam masala in most of my curries. Remember, add a small amount only.
4. Make garlic and ginger paste in bulk
Indian dishes use a lot of garlic and ginger. Sometimes it becomes difficult to make a paste each time you cook a curry. Instead, make the paste in bulk and freeze. Freeze the paste in ice blocks, remove them and keep frozen in a zip lock. You can use one or two blocks according to the requirement while cooking.
5. Don't cook with onions if you are in a hurry
If you want to make something quick, ditch the idea of using onions. Believe me; onions take the most of your time while cooking an Indian dish. Onions take time to caramalize. You can make some dishes totally without onions.
6. Make the base in bulk
The base of Indian curries is caramelized onions and tomatoes cooked along with ginger and garlic paste. As you know, onions take very long to caramelize. However, with busy schedules it is not possible to make curries everyday starting from scratch. To save time, you can cook the base in bulk and freeze it to use whenever necessary.
I make the tomato onion base in bulk every other week. It helps me to cook fresh food daily.
7. Cook simple recipes with few spices
Fancy dishes require a lot of spices to cook, but simple dishes or curries can be made with a few ingredients only. Opt for simple curries like cauliflower and peas curry or eggplant and potato curry. You will need cumin seeds, little oil, salt, turmeric and chilli powder if you like.
You will have a fantastic side dish ready to be eaten with roti or any other bread.
8. Rest the dough before making rotis ( flat breads)
If you want to make a fluffy roti, always rest your dough before making rotis( flat bread). Rotis are a very basic and simple food. The only ingredients required are whole wheat flour and water. And yet, they are difficult to make perfectly. A few other things need to be taken into account and resting the dough is one of them.
9. Soak onions in water
Soak onions for 5- 10 minutes in water before chopping. This will save you from tears while cutting the onions.
10. Add salt at a later stage to vegetables
To keep the vegetables crispier during cooking, add the salt only when the veggies are cooked. Salt lets moisture come out of the veggies and make them mushy.
Indian food tips and tricks: How to add spices to food
Spices form an essential part of Indian cuisine, and the food industry is largely driven by these dry spices. These dry spices can be regarded as a commodity, adding flavor to dishes.
The spices used in Indian cooking are not all wet, some of them are dry and this is what makes it different from other types of cooking. There are some spices that need to be cooked before use while others can be sprinkled on foods raw and others require some additional preparation like grinding or roasting.
The very basic spices that you should have in your kitchen are cumin seeds, coriander powder, and turmeric. This is what I have seen in households in villages. The curries always taste the best as they are cooked with fresh ingredients.
1. Red chilies ( whole and powder)
Chilies are an important ingredient of Indian cooking. Make sure you buy the chilies according to your taste and capacity. I don't use red chili powder in my cooking but love to use Kashmiri red chili powder to give color to curries and gravies.
2. Coriander powder and seeds
Coriander powder is the only spice I have seen at my house. My mom never used fancy spices. Even garam masala was kept only for dishes for guests at home. The daily routine food is not made with a lot of dry spices in normal households.
Veetables are cooked with onion, garlic and ginger base along with salt, chillies and turmeric.
3. Cumin seeds
Cumin seeds are a must in food from north India. It is one of the ingredients that go in the base of any curry. Add a tablespoon of oil in a pan, add one tea spoon of cumin seeds, and let then splutter and release the aroma.
4. Turmeric
Turmeric is a must in every Indian curry. Just add a little like half teaspoon in curries for 3-4 people.
5. Mustard seeds
Many Indian dishes require mustard seeds. Simple dishes like Poha require mustard seeds. South Indian dishes like Sambhar need mustard seeds.
7. Garam masala
Garam masala is a mixture of a few spices and it makes the veggie curries flavorful. Just add half a teaspoon to the curries.
8. Asafoetida
Asafoetida helps in digestion and have a pungent smell. Adding a pinch to curries does the magic and enhance the flavour of the curry.
I hope this will help you in making Indian cooking easy. I myself always try to find some tricks to reduce the time for cooking.