Do you love curries and wonder about the differences between Indian and Thai curry? These two curries are different in taste and flavor and cooked differently.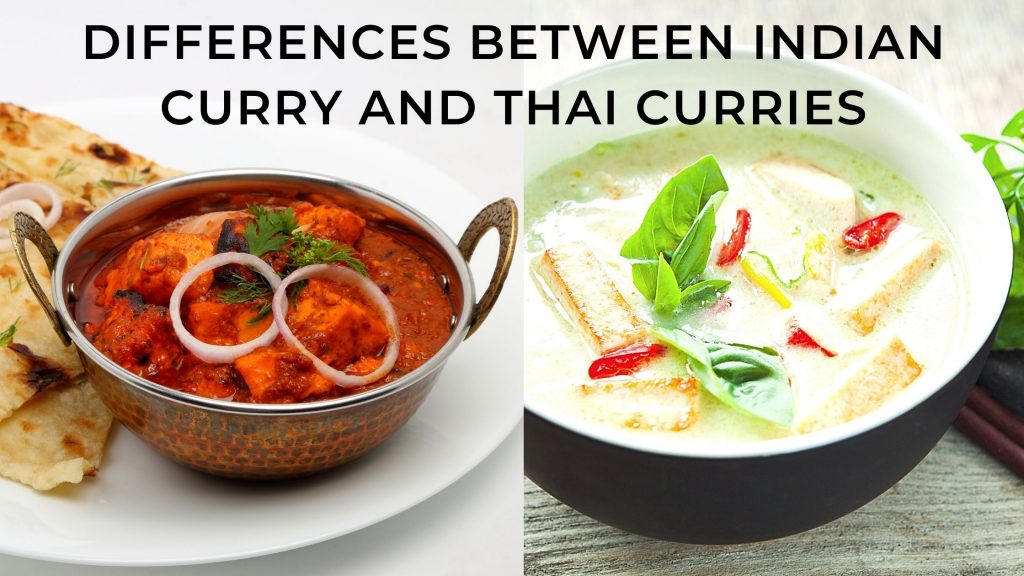 In my opinion, curry is the word used to describe the gravy type dish with added meat or vegetables. There are different types of curries. Similarly, Indian and Thai curries are different in their ingredients, taste, and flavor.
The main differences between Indian and Thai curry are :
Another significant difference is that Indian curries are usually served over rice or eaten with chapatis or naans, while Thai curries are served with noodles or rice.
Indian curries are made with various dry spices such as cumin seeds, turmeric powder, red chili powder, and coriander leaves, and Thai curries don't use these spices.
Thai curry uses coconut cream or milk whereas, Indian curry can be made with cream and butter.
Indian curries may use curry leaves, as in the case of South Indian curries, but Thai curries don't use curry leaves.
Thai curries are made with different curry pastes, whereas Indian curries are flavored with dry spices.
You can cook Thai curries in less time, while Indian curries take more time to cook.
The consistency of Thai curries is soup-like, whereas the Indian curries are like a stew. Therefore, you can have Thai curries without needing anything to dip in the curry.
Indian curries are eaten with naans, roti, and rice but never with noodles. Thai curries can accompany rice or rice noodles.
What is curry?
Curry is a dish in which vegetables or meat are cooked in a sauce seasoned with spices. The term curry originated from the Tamil people in India and Sri Lanka. However, in my opinion, it could be due to the use of curry leaves in South Indian dishes.
Gradually this term came into use to describe all of the dishes with gravy. You can read more about the origin of curry.
Different colors of curry
We have red curry, green curry, and yellow curries
Red curry: Red curry can be made with red curry paste. It is made from red chilies. You can try with mild curry paste to start.
Yellow curry paste: My favorite is the yellow color comes from turmeric. I cook a lot of paneers, and the yellow curry makes an excellent base for paneer.
Green curry: Green curry paste is made from green chilies and is hot and spicy. If you cannot handle the heat, use green curry paste with caution.
Let us find out how Indian and Thai curries are different
Though some of the ingredients are similar in both the curries, their taste is different. The difference comes from the way they are cooked and the ingredients used. Here are the differences
Consistency: Thai curries have a thinner consistency than Indian curries. Thai curries look like soups and can be eaten just like that without any accompanying carbs.
Indian curries are dense and need to be eaten with rice or roti.
Spices used to make both curries: Indian curries use turmeric, cumin, coriander powder, Asafoetida, fenugreek, and Garam Masala.
Thai curries use a lot of chilies, cinnamon, lemongrass, and kefir.
Curry base: Most Indian curries start with onions caramelizing in little oil with cumin seeds. Then garlic and ginger are added after the color change of onions. Then come the tomatoes. The dry spices added to this base add different flavors to curries. Also, there is a difference in the number of tomatoes or onions used to make the curry base.
As for Thai curries, The base is made from ingredients like chilies, ginger, garlic, lemongrass, kefir leaves.
Diffrent type of Indian curries:
The word curry doesn't denote a single type of dish. Instead, there are a lot many types from these two cuisines.
The most famous curries are non-vegetarian ones. But the vegetarian curries are no less in taste and flavor. The difference is that instead of meat, different vegetables are added. Paneer ( Indian cheese) is used instead of meat in a lot of dishes.
Jalfrezi
Bhuna
Korma
Rogan Josh
Vindaloo
Saag
Pasanda
Different types of Thai curries are
Massaman Curry
Yellow curry
Red curry
Panang
Green curry
Do Thai curries taste the same as Indian curries?
No, both the curries have distinct tastes and flavors. Thai curries are tangy and spicier than Indian curries. Indian curries use dairy-based ingredients and cashews ( quite often) in the gravy, so they are more creamy and spicy.
The different tastes and flavors also come from cooking and various spices.
North Indian and South Indian curries
India is a country where each region has its food and curries. Even it isn't easy to divide them into Southern and northern curries. North Indian curries use a lot of dairy ingredients.
South Indian curries are spicier and tangy in taste. These curries use coconut cream or coconut milk.
Now the main differences between the Thai curries and Indian curries are
Indian curries are served with Basmati rice or bread-like naan chapatis, whereas Thai curries are eaten with Jasmine rice.
Indian curries are served with Basmati rice, long-grain rice, or with naans, flatbread (Rotis), and chapatis. At the same time, Thai curries are served with Jasmine rice or with rice noodles. Indian curries are never served with noodles.
2. Curry leaves are added in Indian curries but not Thai ones.
Fresh curry leaves are used to make curries flavourful. For example, 5-6 leaves are added while onions are cooked, or in Tadka, and simmered with all other ingredients.
3. Indian cooking uses a lot of ghee to splutter the cumin seeds, whereas this is not the case with Thai curries.
Ghee is used all over India, but it is more prevalent in North Indian dishes to make them rich and flavourful.
Due to health issues caused by the extensive use of ghee or butter, it is replaced by oil nowadays. As a result, ghee is less used in everyday cooking.
4. Indian curries use more dry spices, whereas Thai curries are made with paste.
Depending on the fresh ingredients, you will get colored curries.
Indian curries are red or orange. There are green ones like saag ( Mustard leaves, spinach, and fenugreek leaves cooked together). Also, palak paneer ( Palak: spinach, paneer: Indian cheese) is green with paneer cubes added.
5. Thai curries are cooked with a lot of coconut cream and coconut milk.
In contrast, famous Indian curries are cooked by adding dairy cream or butter to give a silky, velvety sheen.
Though South Indian dishes are made by adding coconut milk, this difference comes from the available ingredients. North India doesn't have coconuts grown there but has good milk production.
6. Both the curries have different flavor profiles.
The essential ingredients that make Thai food excellent are, Soy sauce, Galangal, chilies, lemongrass, different curry pastes, coconut milk. At the same time, the main ingredients for Indian food are cumin seeds, mustard seeds, turmeric, chili powder, onions, garlic, and ginger, Not to forget the ever famous Garam masala.
7. Thai curries and Indian curries have different flavor profiles.
As both, the dishes only have a similar name: Curries. However, they have different flavor profiles due to the various ingredients used to cook them.
8. Different consistencies.
Both these curries have different consistencies. Thai curries are soup like whereas Indian curries are more like a stew. You can eat Thai curries as such, but you need rice or some bread to accompany Indian curries.
These are the differences between Indian and Thai curries, in my opinion. Do you know more about the differences? Please let me know in the comments.